Description
PH/ORP/ TDS Meter Lutron WA-2015 adalah seperangkat alat ukur yang digunakan untuk melakukan pengukuran tingkat konduktivitas pada suatu larutan. Selain dapat digunakan untuk mengukur tingkat konduktivitas alat ini juga mampu melakukan pengukuran pH, ORP dan TDS dalam larutan.
Namun Perangkat PH/ORP/ TDS Meter Lutron WA-2015 ini sudah DISCONTINUED atau sudah tidak kami support lagi. Sebagai pengganti dari alat ini Anda bisa menggunakan Alat Ukur Konduktivitas Air AMTAST CD40 untuk melakukan pengukuran tingkat konduktivitas larutan.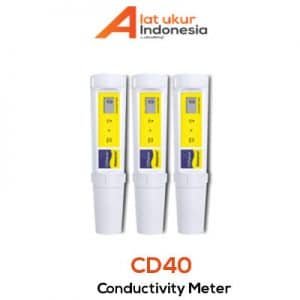 Alat Ukur Konduktivitas Air AMTAST CD40
 adalah alat untuk mengukur nilai konduktivitas listrik atau daya hantar listrik pada air atau zat cair. Alat ini digunakan untuk mengukur cairan dengan konduktivitas tinggi seperti air limbah dan air asin/ air laut. Tingkat konduktivitas merupakan salah satu hal penting yang diperhatikan dalam sistem pengolahan air limbah. Walaupun bukan satu-satunya parameter dalam pengolahan air limbah, namun tingkat konduktivitas dapat mempengaruhi dalam proses kontrol air limbah.
Tidak hanya itu saja alat ukur ini juga memiliki berbagai macam fitur yang lebih unggul dan canggih. Salah satunya yaitu dengan adanya fitur memory non-volatile untuk penyimpanan hasil pengukuran sehingga jika Anda ingin melakukan analisa data hasil akan lebih mudah. Alat ini juga memiliki kemampuan membaca hasil pengukuran dengan cepat yang akan langsung ditampilkan pada layar LCD.
Untuk Informasi lebih lanjut mengenai Alat Ukur Konduktivitas Air AMTAST CD40 Anda bisa membukanya melalui link disini.
Fitur PH/ORP/ TDS Meter Lutron WA-2015 :
One meter for multi purpose operation : pH/ORP, CD/TDS ( Total dissolved solids ),Dissolved Oxygen.
Professional bench type meter with large size LCD display with green color back light.
Bench type, RS23/USB, Data logger
pH : 0 to 14.00 pH, ORP : ± 1999 mV.
Ukurdanuji adalah unit bisnis dari JVM yang membidangi penyediaan instrumen pengujian dan pengukuran. Kami menyediakan semua intrumen pengukuran dan pengujian sesuai dengan yang Anda inginkan.
Bagi pemesanan langsung saja hubungi kami melalui kontak yang ada di website ini. Baik email dan telepon, pesan atau whatsapp, atau bisa langsung saja datang ke alamat kantor kami. Kami akan merespon sebaik dan secepat-cepatnya.